My Brightest Diamond – Dragonfly
Shara Worden, whom we've heard alongside Sufjan Stevens, before she took her own solo path under the moniker of My Brightest Diamond, feels like a dragonfly and dreams of flying away. Mabe you could help her by attending her Point Ephémère gig in Paris tomorrow, to listen to her crystal-clear yet powerful voice, coupled with nice songwriting skills and a highly endearing personality.
We're already quite excited about the announcement of A Thousand Shark's Teeth, her 2nd album to be published on June 17 by Asthmatic Kitty, and for which Shara cites influences from Tricky, Tom Waits and Maurice Ravel, as well as Jean-Pierre Jeunet's movies and Alice In Wonderland.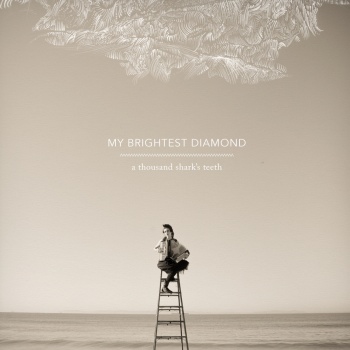 Tujiko Noriko – 普通の日 (Dead Earth)
No wonder we are starting to see Tujiko Noriko more and more frequently booked at some of the best Parisian venues, as the Japanese-born singer and composer chose to live in our land of magical baguettes, as one can guess from the TV samples heard in her "Dead Earth".
For us awaken Earthlings, the fairy Noriko-san will showcase her nursery rhymes, between well-written melodies and sharp experiments, Wednesday April 23rd at the  Point Ephémère, as part of the feminine festival Les Femmes s'en mêlent.